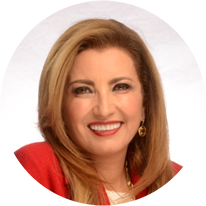 Dr. Elba García, D.D.S.
Dentist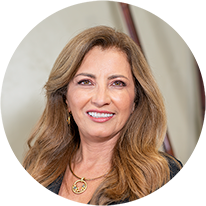 Meet Dr. García
A COMPASSIONATE AND SKILLED FAMILY DENTIST IN DALLAS, TX
Although you may be visiting our office for a regular dental exam, our dentist is also a well-known community leader. Dr. García has dedicated her life to helping Dallas, TX, residents with quality family dental services and public service outside of our dental office. We're proud to share her background here, and we welcome new patients to meet our dentist and staff in person by making an appointment for a dental exam or any other general and family dental services. Call us today for a family dentist who cares about every member of our community.

Dr. Elba Garcia embodies a new breed of professional woman in the 21st century. She is not only a community leader, but is also a mother and wife, a dentist with her own private practice, and a role model for Hispanic women from all walks of life. Dr. Garcia is a former Dallas City Council Member and current Dallas County Commissioner for District 4.
Born and educated in Mexico City, Dr. Garcia earned her first Doctorate in Odontology from the Universidad Autónoma Metropolitana in 1984. She later immigrated to the United States, where she continued her education at Baylor College of Dentistry, earning her second Doctorate in Dental Surgery (DDS) in 1990. She is a small business owner having run her own private practice since 1998. Dr. Garcia also served as an assistant professor at the Baylor College of Dentistry. She is married to former Texas State Representative Domingo Garcia. They are the proud parents of two sons.
Community service outside of dental health care
Dr. García has always dedicated herself to community service. She began her service in public office in 2001 when she was elected to the Dallas City Council to represent the citizens of District 1. Besides representing her own district, she served on numerous committees and task forces, including chair of the City of Dallas Domestic Violence Task Force and the chair of Public Safety, where she spearheaded efforts that led to a record reduction in crime rates for the City of Dallas. She was also chosen unanimously by her colleagues to serve as deputy mayor pro tem and mayor pro tem.
While serving on the Dallas City Council, Dr. Garcia was instrumental in steering a number of important public projects to completion, including securing critical funds for the Latino Cultural Center and spearheading the development of a new Animal Shelter and the Oak Cliff Cultural Center. Additionally, she worked with the Environmental Committee to institute LEED standards for City of Dallas buildings.
In addition to her service to her constituents in Dallas County District 4, Dr. Garcia bears a myriad of other public service responsibilities. She is a current or past member of the Duncanville Chamber of Commerce, the Cedar Hill Chamber of Commerce, the Grand Prairie Rotary Club, Grand Prairie Chamber of Commerce, Greater Grand Prairie Hispanic Chamber of Commerce, Greater Irving/Las Colinas Chamber of Commerce, Henry Holmes Breakfast Group, Irving Heritage Society, Safer Dallas Better Dallas, Irving Women's Network, League of Women Voters of Dallas, Irving Hispanic Chamber of Commerce, Dallas Summit, Hispanic 100, Dallas Assembly, Oak Cliff Chamber of Commerce, Oak Cliff Lions Club, and St. Cecilia's Catholic Women.
She is also a current or previous board member of Children's Medical Center of Dallas, Greater Dallas Hispanic Chamber of Commerce, Dallas Zoological Society, Salvation Army, Dallas Convention Visitors Bureau, New Friends New Life Advisory Board.
Dr. Garcia was elected to serve as Dallas County Commissioner by the citizens of District 4 in November 2010, becoming the first Latina ever to serve on the Dallas County Commissioner's Court. During this first term in office, Commissioner Garcia has focused on making county government more transparent, saving millions in tax dollars by fixing Dallas County's bail bond system, pushing projects forward like the long-delayed Hunter-Ferrell Road project in Irving and Grand Prairie, and championing initiatives like the District Attorney's new Animal Cruelty Unit. She is the Chair of Dallas County Criminal Justice Advisory Board, Bail Bond Task Force, and the DWI Task Force. Dr. Garcia is a member of North Texas Behavioral Health Authority (NTBHA), Greater Dallas Homeless Policy Alliance, Public Employee Benefits Cooperative (PEBC), Prostitute Diversion Initiative (PDI) and an alternate for the Regional Transportation Committee. In her role as a Dallas County Commissioner, Dr. Garcia also appoints community members to various Dallas County Boards including the Parkland Board of Managers, the Dallas County Trail and Preserve Program Board, the Citizen Election Advisory Committee as well as several other boards and commissions.